Hermann Goering was the Luftwaffe General, the head honcho of the Nazi air force and a bit before my time; I am very comfortable with the fact that I never met him, so what has he to do with me… Well I did get a ride in his parade car and what a superb piece of automobilecraftsmanship that is.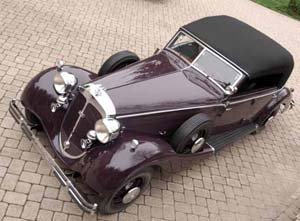 Photographing some of the world's greatest marques has really opened my eyes to things I never dreamed of in my youth. For instance, like most Brits of my age, when I thought of fabulous, extravagant luxury on four wheels, the brands that sprang to mind were Rolls Royce, Bentley, Alvis, Armstrong Siddley, Bristol, Lagonda and one or two other significant marques that have momentarily dropped from memory. Even though we see Audi as a mid-level luxury car, how many of us would know that it is a direct descendant of the famous Horch that stood so prominently in the parades of the Third Reich. There in the name is the give away; 'horch' is German for hearing, but after the company had sold the name, long ago, they turned to the Latin for hearing and kept the familiar rings that are the trade mark of Auto Union.


Enough of my meandering, photographing the Horch, in spite of it's history, was such a joy, after all it is a magnificent world-class vehicle by any yardstick and it has been beautifully restored to concourse condition by the current owner, American Chevy dealer, Ed Schoenthaler and his wife, Judy.

Photographing cars only makes up a very small percentage of my work, but is by far the most pleasurable and ranks as high as teaching in my priority list of favourite occupations, especially when the work is for Automobile Quarterly, just about the most prestigious car magazine in USA.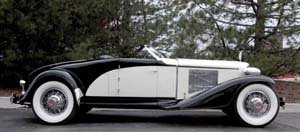 For this work I like my Fuji S2 Pro; sorry folks I just haven't upgraded these last seven years, but since it isn't broke I don't see the need to fix it – it is delivering full-page, fullbleed, flawless images and such colour fidelity. I capture RAW, but even so I do set white balance in camera, use a Minolta Autometer IVF to measure incident light, now all the exposures in that location will be constant. However, when I crouch to get chassis, engine or exhaust pipe details, I will certainly take a fresh reading.

Automobile Quarterly aren't looking for fancy post-production filters or wacky techniques, they want good old-fashioned crisp quality, within a deadline that is often too short, occasionally in a season when there are no outdoor backgrounds or have sent a brief that restricts where I can shoot the image. Well that is OK., that is precisely what commercial photography is, only now and again is there an opportunity to get ultra-creative, but in the meantime it is good to be happy just capturing fine-looking wheels and marvelling at the odd one or two that never came onto the market, like concept cars that make an appearance at the motor show and are never seen again.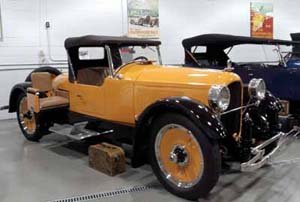 I did get an assignment to go shoot four concept cars, out of a fleet of about twenty that are owned out my way. Considering the investment in the concepts, though, once I was up close and personal, I wasn't really impressed with them, they didn't even come close to the quality, style or panache of the vintage supercars.

The day I arrived in Downers Grove to photograph the Schoenthaler collection, it was a dull overcast day and a couple of times as we were trying to manoeuvre vehicle out for the shoot, it would threaten to rain and we would have to scramble to get these extremely valuable, very rare masterpieces back under cover. Remember they have to be kept looking pristine in the museum.