How to Remove Mega Moiré
Photoshop Tutorial by Jane Conner-ziser

What is moiré and how do you prevent or remove it?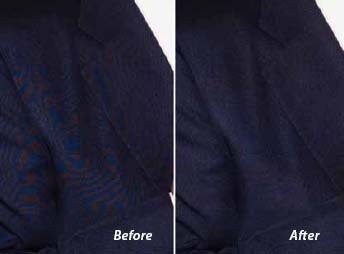 Moiré is a repetitive pattern of wavy lines or circles that occasionally appear on objects in digital captures. It occurs when fi bers or fi ne parallel details in an object match the pattern of the imaging chip in the camera. Some camera companies incorporate anti aliasing fi lters in the cameras to slightly blur the tiny detail areas of captures, but other manufacturers prefer not to use them because they don't want to sacrifi ce image sharpness. With or without the fi ltering, every digital camera is capable of creating moiré.


Camera angle, lens focal length, camera position and focus point can all contribute to moiré so changing any of these in a circumstance where you see moiré can eliminate it. On the job it's hard to do because you have to view the images at 100% in order to see it correctly.

So, you can have a great camera and do everything correctly and still see moiré once in awhile. It can usually be corrected by duplicating the background, blurring the copy and changing the layer's blending mode from Normal to Color, BUT –

Today we had a challenge; some of the most distinctive moiré I've ever seen. I tried everything. Every tried and true method of moiré removal minimised it somewhat but nothing even came close to an acceptable fi x. In RGB, the moiré was visible in every color channel. In Lab Color, it was visible in both color channels PLUS the lightness channel.

However, it is said that perseverance pays off and we weren't going to let it go. In the end I combined a couple of diff erent techniques and come up with one that works consistently every time. Record an action of this – it's worth it!

We're assuming you are working with an RGB fi le.
1. Image / Mode / Lab Color
2. Duplicate the Background
3. Make sure the Background Copy is the active Layer
4. Open the Channels window
5. Click on the Lightness channel to make it the active channel
6. Choose from the Main Menu Bar, Image / Show All Menu Items / Apply Image

Choose the following settings:
Source: will be the name of your fi le
Layer: Background Copy
Channel: b, check Invert
Target: will be the Lightness channel of your fi le name
Blending: Overlay
Opacity: 100% - I TOLD you it was serious moiré!
Check Mask to open additional options
Image: will be the name of your fi le
Layer: Background Copy
Channel: Lightness, check Invert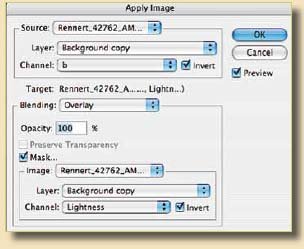 7. Click OK
8. Click on the Lab Channel (the image becomes color again)
9. Open the Layers window
10. Duplicate the Background Copy (makes Background Copy 2)
11. Filter / Blur / Gaussian Blur – adjust until colors blend; we did 25 pixels
12. Change the Layer Blending Mode from Normal to Color
13. Hold the Shift Key down and tap on the Background Copy so both are active
14. Open the More Options fly out menu from the upper right corner of the Layers window and choose to New Group From Layers. Click OK
15. Hold down the Option (or Alt for PC) key and click on the Layer Mask icon at the bottom of the Layers window. It will be a black mask.
16. Use the Brush tool, Normal mode, 100% opacity, 100% flow to apply White paint over the moiré. Choose a brush size appropriate for the job.
17. Choose Layer / Flatten Image
18. Image / Mode / RGB

You're finished!
Desperate times call for desperate measures and I realise this is a
LOT of steps but it worked every time on the father of the groom's suit in an entire wedding. By making the action, this rather involved process was reduced to one click, a quick swab with a brush and one more click to finish. We'll be keeping this action just in case we need it again.
I'm going to name it Jane's Heavy Duty Moiré Murder-cator or
JCz HD MM for short. It can be remembered as
"Jane's Hard Drive is filled with M&Ms" Just Kidding - Big Smiles!
Thanks!
Jane Conner-ziser

Jane Conner-ziser
Jane is a photographer, digital artist, independent consultant and teacher for the professional photography industry. With over 25 years of experience, 19 of them in digital imaging and evolving technologies, the techniques Jane developed for facial retouching and enhancement and portrait painting are widely emulated by photographers and digital artists worldwide through her classes and educational products. She participated in Canon's Explorers of Light PrintMaster program, is an Adobe Photoshop Expert, a Corel PainterMaster, an X-rite Coloratti and a Craftsman Photographer of the Professional Photographers of America. In addition, she is past co-chair for the Digital and Advanced Imaging Committee for the Professional Photographers of America.